EDIT MAIN
Superintendent's Message
November 2019
Three years ago, the Depew Union Free School District embarked on a journey to transform the way students learn. Our vision focused on STEAM - science, technology, engineering, arts and math. The dedication of our faculty, administration and Board of Education has allowed us to scale up our efforts each year to engage students in hands-on learning that will prepare them for the future.
The district has worked with the WNY STEM Hub throughout this process and has received recognition for our efforts as an Emerging, Engaged and finally Accomplished program in the areas of STEAM integration, connections to non-STEAM disciplines, use of project-based learning, exposure to STEAM careers, use of the engineering design process and technology integration.
Recently, Depew was the first school district in Western New York to achieve Quality Partner Status from the WNY STEM Hub. This is a high-level, capstone endorsement that demonstrates STEAM learning meets best practice standards.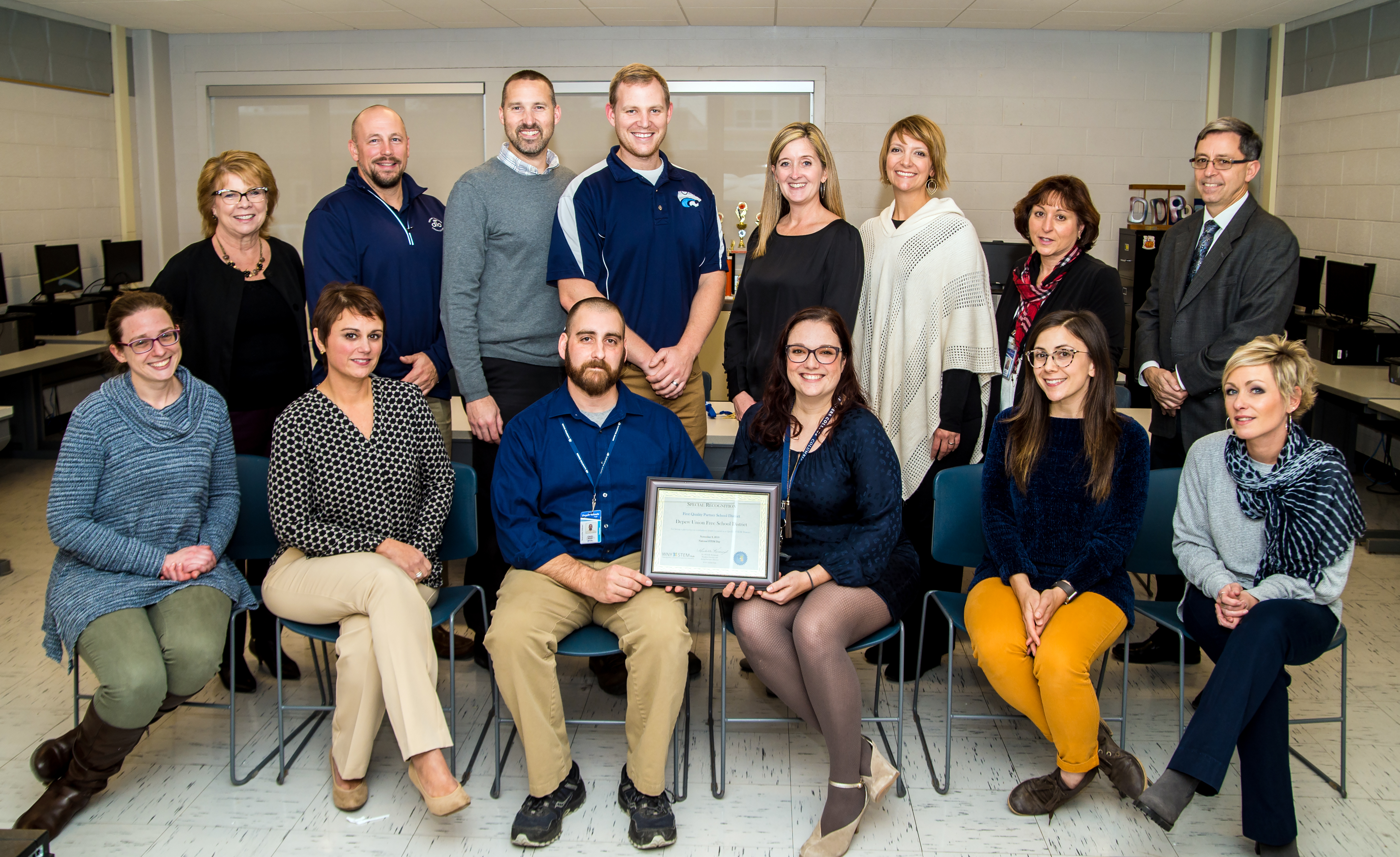 The vision that started three years ago has made its way to each of our schools and a range of subjects. Cayuga Heights began its STEAM program with a vision focused on a place where students could become designers, artists, coders, engineers and problem-solvers. That vision became a reality with the Cayuga Creators Workshop which allows students to create, build, collaborate and persevere. The space features flexible seating, a Coding Corner and a Makerspace Cart that is full of everything students need to learn hands-on STEAM skills.
Students at Cayuga Heights are further enriched through the Coding Club, which is now in its second year, and the new Creators Club where students take on engineering challenges.
At the middle school we have a dedicated and entire class to STEAM learning. Led by Aaron Nolan and Jim Helms, the class has incorporated projects like aquaponics as a unique way to experiment with plants and learn about farming; and Hummingbird Robotics kits, which allow students to learn coding, robotics and to get creative. Students also wrote a proposal for a science experiment to be conducted on the international space station. Their goal was to find out if the germination time of strawberries was affected by the lack of gravity!
In the art department, our desire to make the ordinary extraordinary has led to the development of many projects utilizing recycled materials. Using materials from wire hangers to pop cans and Pringles cans for students to build creatures from their imaginations, classes have been recognized for several eco-friendly projects. Khrista Tabak's high school sculpture class submitted award-winning collaborative works as part of the "We Are the Solution to Plastic Pollution Project." Likewise, Lori Bogdan and students created a rain barrel for the Erie County Environment and Planning department's annual contest, winning second place. These projects allow students the opportunity to use their art to make an impact.
The music department is making a difference in the way students see the subject. The high school Digital Music Production (DMP) course had a successful first year. Students created a wide range of music, learning production skills, proper mic technique, mixing, and video scoring.
DMS will also be incorporating more technology into general music this year. MusicFirst was adopted as a curriculum resource and it incorporates Digital Audio Workspaces, similar to what is used in the high school class.
Accomplishing these milestones did not happen overnight and is only possible because our teachers have also been eager to learn. Having a majority of our science teachers certified as New York State Master Teachers allows for regular, high-quality professional development in the area of STEAM in our schools.
Depew's teachers are attending outside professional development as well as presenting as an example for other districts. Last year, Mrs. Lovelace presented on STEAM in music at both NYSSMA and NYSCATE conferences. Over the summer she attended the Audio Engineering Society's High School Educators Conference at the University of Hartford.
During summer break, our art teachers attended a three-day STEAM intensive Creative Technologies Bootcamp this summer at Columbia Teachers College. They have presented "How to Plan a STEAM Event" at a NYSCATE conference and recently were awarded a grant from NYSCATE to purchase a Glowforge laser engraver to increase our students' exposure to new technologies.
This summer, teachers, Mrs. Bulas, Mrs. Pulaski, Mr. Ray Cooper, Mr. Charles Bonda, Mr. Nolan and Mr. Helms were all able to present at the WNY STEM Hub conference at Hilbert College on different ways to teach STEAM in grades K-12.
Our high school PLTW students have also taken lessons they have learned in Depew out into the community. Last year, they presented their record shattering trebuchet design at the Buffalo Museum of Science. Their design launched a pumpkin a whopping 687 feet, shattering the record that they held before.
Teachers in Western New York have noticed the innovative teaching happening in the Depew music department. The KenTon district requested Mrs. Lovelace provide in-service training for their teachers.
So why do I share this update with you, because our success, the success of our students, is, collectively, the success of the Depew School Community. Where would you rather be than right here, right now and a part of the future of the Depew School-Community?