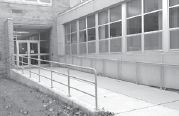 Voters Approve $15.6 Million Capital Project
Depew Union Free School District
Wednesday, December 14, 2016
The community approved a $15.6 million capital improvement project on Dec. 13 for Depew Union Free School District to implement a series of district-wide building improvements, an upgrade to the athletic fields and the establishment of a vehicle reserve fund.
The $9.2 million proposition 1 for district-wide improvements was approved in a 147 - 46 vote.
The $6.3 million proposition 2 for athletic field upgrades was approved in a 137 - 56 vote.
Proposition 3 to establish a vehicle capital reserve fund was approved in a 150 - 41 vote.