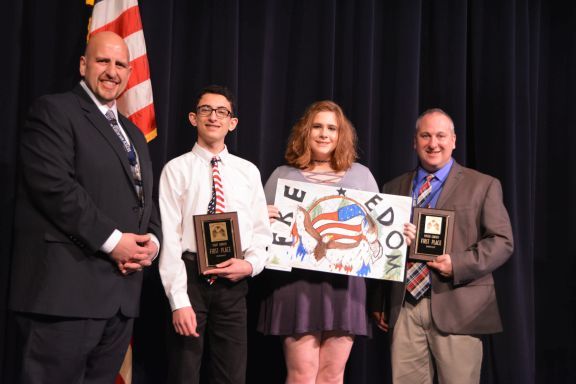 Freedom in America Contest Winners
Depew Union Free School District
Friday, March 31, 2017
Eighth-grader Tarek Karzoun and seventh-grader Samantha Treadway received first place in the Depew Middle School Freedom in America essay and poster contest. Tarek read his essay, which talked about his family's background and what freedom means, before an audience of all middle school students and a panel of judges. He won $150 and a plaque. Samanatha's poster shows an eagle flying and a flag image wrapped inside the word Freedom. She won $100 and a plaque.
The contest, now in its 45th year, was coordinated by social studies teacher Sal Carlino and art teacher Joseph Pagano. Students used the theme of Freedom in America to create original pieces of writing or art to express their take on the topic.
Haylie Petyk received $75 for second place in the poster contest; poster runners up Kaitlin Whalen, Theresa Kaus and Hannah Stocklosa each received $50. They are all in seventh-grade. Second place in the essay contest earned Theresa Kaus $100; essay runners up seventh-grader Brooke Canetti and eighth-graders Moriel Addesa and Logan Schwartz each received $75.