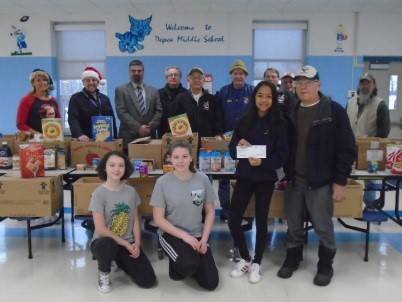 Holiday food drive a success
Depew Middle School
Thursday, December 14, 2017
It was another successful year for the Depew Middle School Student Council Holiday Food Drive. The students and faculty of Depew Middle School collected enough donations to fill 17 boxes with food.

Each year, beginning shortly after Thanksgiving, and running through the second week of December, the student council, in conjunction with the Eagles Club of Depew, Aerie 2692, collect non-perishable food items for deserving families. At the same time, the Eagle Club holds its own food drive to add to the efforts of the student council.
The members of the Eagles Club take the donations and make baskets of food and gifts cards for deserving families of Depew Middle School. This year, 14 families from the middle school will have a brighter holiday season thanks to the efforts of the student council and Eagles Club.

The student council and Ted Gorney, Eagles Club liaison, organize the effort each year to help those less fortunate. Additionally, the Eagles Club donated $250 to the student council as a thank you for its yearly collaboration on the food drive.
Pictured are: President Paul Gasiewicz, Ted Gorney and honorable members of the Eagles Club of Depew. Student Council Officers: President - Kyneshi Buhion, Vice President - Anna McLaughlin (not pictured), Secretary - Abby Fisher, Treasurer - Riley Wentlent, Co-Advisors Dawn Thurnherr and Mr. Carlino, and Principal James Lupini.