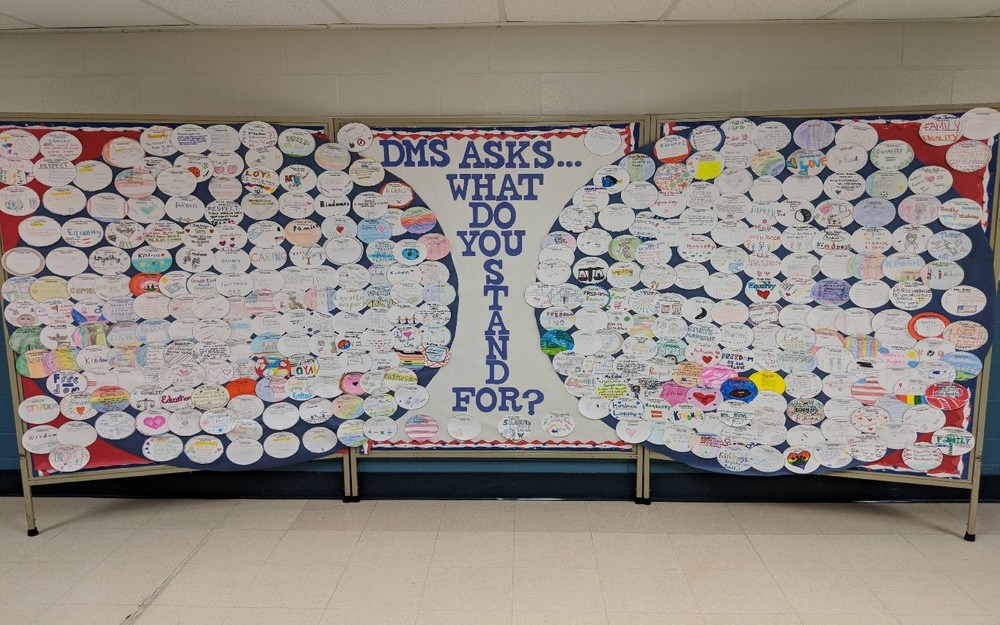 DMS ASKS…. What do you stand for?
Depew Schools
Monday, May 14, 2018
During the most recent Enrichment Day at the middle school, the entire student body and staff participated in an afternoon centered around the 7 Habits, character education, and leadership. The afternoon began with a presentation by Erie County Comptroller Stefan Myhajliw, attended by the entire school. Mr. Myhajliw's speech centered on his life, growing up as a child of immigrants, who achieved the American Dream. He talked about how he and his family worked hard to get themselves out of poverty. He described how leadership, character and hard work helped him achieve his rise in Erie County government, along with his involvement in worthy causes. Many students felt a connection to Mr. Myhajliw and the struggles he and his family went through.
After the assembly, students returned to their homerooms, where they participated in a lesson called Circles Of Strength. Teachers and student leaders facilitated the lesson, which discussed how many famous people have taken it upon themselves to be leaders in other areas of need. They learned about how superstars like Zendaya, George Clooney, Bono and others work to bring change to the world and stand up for what they believe in. Students were then given an empty circle and were asked to draw, write or design an idea close to their hearts, which would also describe what they stand for. Ideas and designs included education, character, equality, and many others. Student leaders then created a mural of all the circles, which is now prominently displayed in the main hall for all to see. The day was planned and carried out by LEAD Club advisor Mr. Carlino, the middle school Lighthouse Team, and student leaders from sixth, seventh and eighth grade.