DMS Team Building Day
Depew Schools
Thursday, September 27, 2018
Recently the seventh grade class participated in the annual Team Building Day.
Begun by 7th grade class advisers Mrs. Kathy Ward (MS) and Mrs. Theresa Mercuri (MS) several years ago, Team Building Day gives students an opportunity to participate in four activities designed to build cooperation, collaboration, trust and a feeling of community.
The seventh grade was broken into 12 groups and were led through the activities by High School Leadership in Action students as well as a middle or high school teacher. During the first activity led by confidence and reliance on each other. The second activity led by Mr. Dan Seelig (MS), had students working together in an activity called Mission Possible, where they had to cross the school tennis courts, using pool noodles, small carts, cones, etc. without touching the ground. The third activity led by Ms. Kelly Jeffords (HS) and Mrs. Jodi Obrochta (MS) gave students a chance to learn about different personality characteristics through True Colors©, in order to increase awareness of themselves and others. In the final activity with Mrs. Ward and Mrs. Leslie Gracz (MS), students were tasked with constructing a device for an Egg Drop Challenge. Each team had to use their collective reasoning to keep the egg safe, using only supplies like Popsicle sticks, cotton balls, packing peanuts, yarn and tape. The teams with surviving eggs were brought to the cafeteria at the end of the day for a final drop. In the end, one of the remaining five teams from the earlier part of the day were successful in keeping their egg safe at all heights.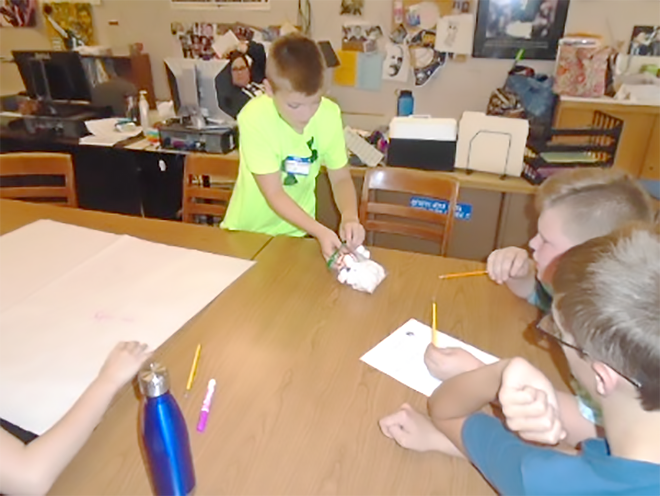 The day was planned and organized by Leader In Me TOSA's Kelly Jeffords (HS) and Sal Carlino (MS). It was especially rewarding for the high school students, who practiced leadership skills they have been developing in the Leadership In Action class. Overall, the day provided both students and staff a chance to build relationships and camaraderie.