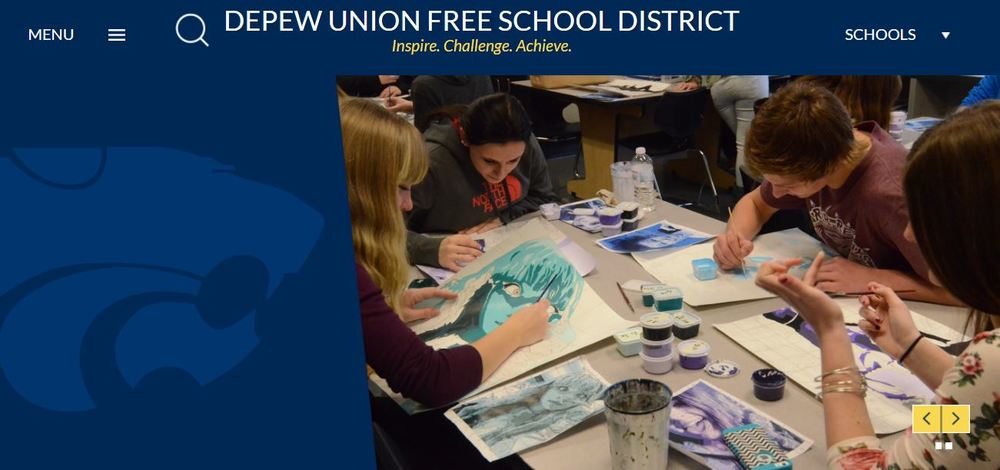 New Website Design Launches; Features a Free Mobile App
Depew Union Free School District
Tuesday, October 25, 2016
The new responsive website design and a free mobile app launched by the Depew Union Free School District offers a new level of communication tools for parents and the community. The district is working with a website and app development company called Apptegy, a leader in education technology, to develop multiple ways for the district to share all of the great things happening in our schools.
The district is taking this initiative to engage community members on the devices they use most; primarily cell phones. With these new online tools, news can be shared quickly across several communication channels.
One of the first changes the community will see is an updated look for the Depew Union Free School district website. Our URL will remain www.depewschools.org. If you have bookmarked or favorited the site, you will not have to do anything new to access the site.
To navigate the new streamlined design, users will use either a Menu button or a Schools button. The Schools button opens up the homepages of the three school buildings. The Menu button opens up a second page with static pages and links. Repeatedly clicking the menu button will take you back and forth between whatever homepage you are on and the second page.
The website's responsive design will adapt to whatever device is being used. So if you access the site on a tablet, laptop or projector screen, the design modifies itself to fit that screen. Each homepage will display a Live Feed, News, Calendar and a photo gallery. Live Feed works like a Twitter feed where photos and news can be posted in 140 characters. Live Feed posts allow the district to share news as it happens; the postings will appear on the website and the mobile app at the same time.
The free mobile app, available through the Google Play and Apple App stores, will put Live Feed, news, events, cafeteria menus, staff directory, documents, and notifications right at your fingertips. Parents will be able to register for notifications by subscribing to specific buildings. We anticipate the mobile app will be very popular with parents making it easy to navigate without using the "pinch and pull" method to enlarge type or photos.
The choice to partner with Apptegy was made in the interest of providing the Depew Union community with easy-to-use mobile application and a responsive website that went above and beyond what the district has offered in the past. Apptegy is an Arkansas-based education technology startup that builds simple communication tools for school districts across the country.