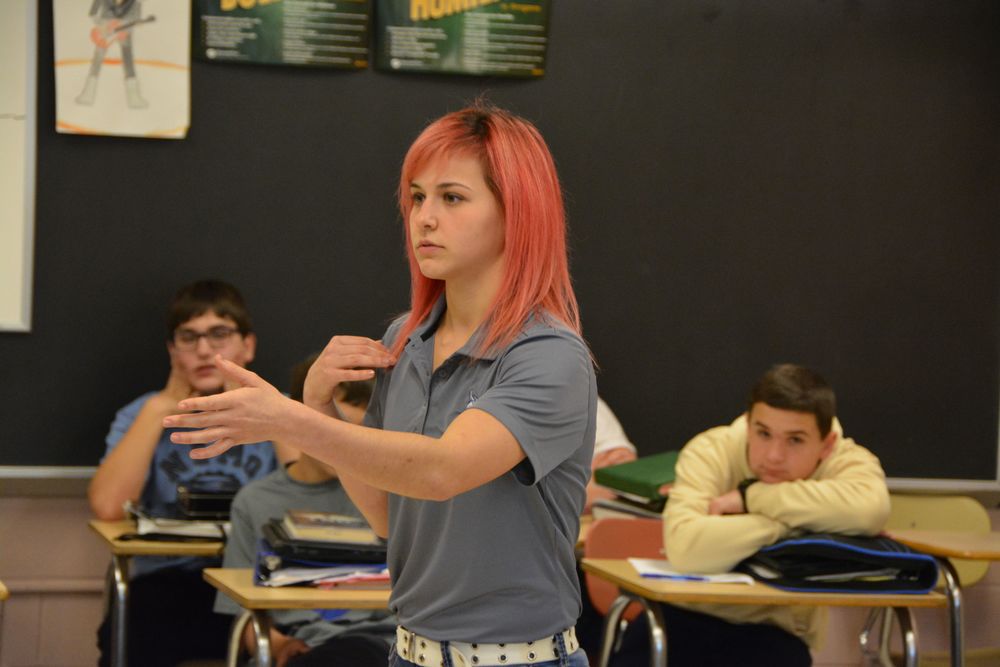 Golden Gloves Boxer Talks to MS Students about Not Bullying Others
Depew Union Free School District
Friday, December 02, 2016
When Kristen McMurtree, the 2015 Women's National Golden Gloves winner, was a senior in high school she was bullied to the point where she eventually quit the things she loved; track, student council and honor society. She turned to boxing, spending hours in the gym, and it changed her life.
McMurtree, 21, spoke to students in John Kling's health classes at Depew Middle School today (Dec. 2) to motivate students to think about what they say and do in school and online.
"I remember all the names I was called," she said, telling them to remember that words are very powerful.
She talked to them about the reasons someone would bully such as jealousy and superficial things like clothing. She suggested that instead of gossip or criticism, they could compliment their classmates and say hello to each other in the halls, even if they don't know the other student well.
Her visit was coordinated by Joseph Chudoba, an Erie County Sheriff in the Domestic Violence Unit, and he spoke to students about the effects cyberbullying has had on some cases he's worked and read about.
McMurtree, who competes in the flyweight class, is training for the 2020 Olympics. She is a senior at D'Youville College in the exercise and sports studies program, and is also the coach of the University at Buffalo boxing club. She's been featured on Ch. 2 for her starring role in the Goo Goo Dolls "So Alive" music video taped at Buffalo's Central Terminal.
She urged them to be careful about who influenced them. She also reminded them to be careful about what they post online and that what they post may influence their first job. She, like many employers, check out social media accounts and said if potential boxer has posts that bully, there's no place in her gym for that.