EDIT MAIN
Wellcats For Life Report September 2018
The Wellcats for Life PEP Grant serves approximately 1,800 K-12 students in the Depew Union Free School District (DUFSD) outside of Buffalo, New York. At the conclusion of Year 2 data collection, the following was determined:
Measure 1.1 (Polar Active Activity Monitors)
34% of our students engage in 60 minutes of daily physical activity
Measure 1.2 (Fitnessgram)
54% of our students meet the standard of a healthy fitness zone for the Presidential Youth Fitness Program in at least five of the six fitness areas.
Measure 1.3 (Electronic Survey)
28% of our students consume fruit two or more times a day and vegetables three or more times a day.
Funding from this grant has allowed Depew UFSD to accomplish the following during the 2017-2018 school year:
1) In order to improve the amount of physical activity and overall health of our students, Wellcats for Life has created new, state of the art fitness/wellness centers in all three district buildings. During year 2, these three centers were utilized on a daily basis by our Physical Education classes, interscholastic athletic teams, and by our students during open workout times.
2) In addition to our new fitness/wellness centers, students also have the opportunity to participate in a wide variety of intramural activities. While we continue to offer traditional intramurals, such as team and individual sports, Wellcats for Life has allowed us to expand offerings for our students. For example, we now offer Dalcroze Eurhythmics, aquatics, various group fitness classes, and the Wildcats on the Move Running Club. In year 2, this coed running club partnered with New York Road Runners (NYRR) and was open to all students. The season culminated in early June with a 5K race in the Buffalo area.
3) While the new fitness/wellness centers have helped to enhance our Physical Education program, Wellcats for Life has provided DUFSD with an opportunity to update our curriculum to better align with both state and national standards. Infused with SPARK, CATCH Nutrition, and OPEN Phys. Ed., our updated curriculum now includes unit plans, block plans, study guides, rubrics, cognitive assessments, and skill assessments for all units K-12.
4) In addition to updating our curriculum, we were also able to purchase and implement IHT Adidas Zones heart rate monitors K-12. The use of heart rate monitors during class time has assisted children in learning aerobic pacing and target heart rate, staying in the zone, comparing the effects of varied physical activities on the heart, etc. Also, students in grades 6-12 were introduced to PLT4M, which is a cloud-based strength and conditioning program specifically designed for use in PE classes. Along with our new state-of-the-art fitness/wellness centers, PLT4M will help instill a sense of ownership over one's fitness.
5) Wellcats for Life allowed us to continue to send our staff to quality professional development offerings across the country. In November, 6 Depew PE teachers were sent to the NYS AHPERD Conference at Turning Stone, while, in March, 4 attended the SHAPE America Conference in Nashville, TN.
6) Our PEP Grant has allowed us to implement elements of Outdoor Education with the purchase of snowshoes for our elementary and high school students. In addition, the Wildcat Family Snowshoe Walk was held in February and was open to all current Depew students and their families. This event featured basic instruction from our PE staff, a guided walk, games, and healthy snacks.
7) Finally, in order to successfully meet the physical activity needs of our students during the summer months, Depew UFSD once again partnered with Depew Recreation to offer the Wellcats for Life Summer Day Camp. Open to all current DUFSD students entering grades 1-8, this free four week day camp employed 11 current Depew teachers and 5 additional staff members. Participants were involved in a variety of daily activities, such as sports, lifetime activities, cooperative games, aquatics, arts & crafts, and STEAM. The summer also included theme weeks, camp-wide celebrations, and a field trip to the Buffalo Zoo.
---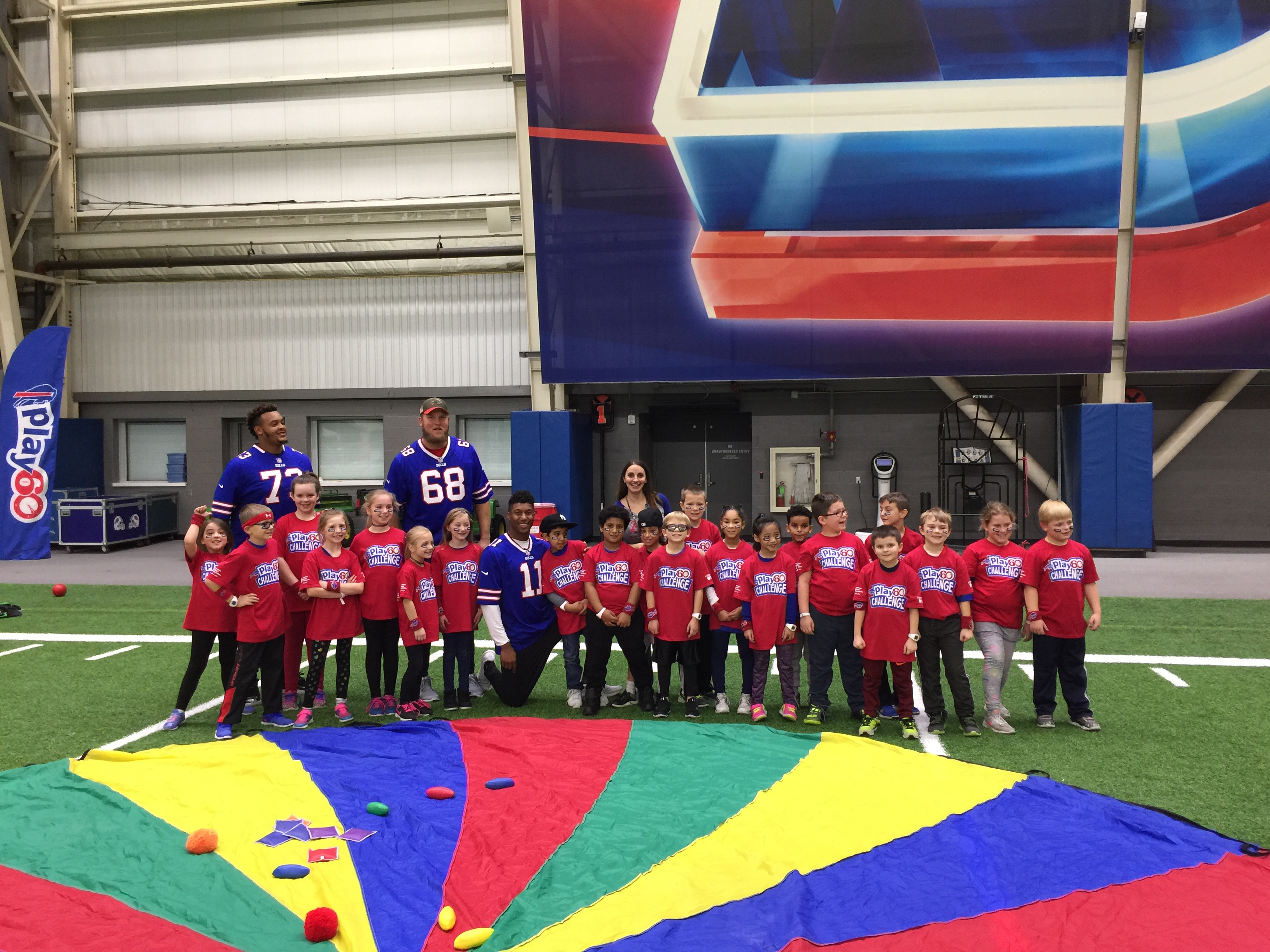 Play 60 Fitness Party at ADPRO Sports Training Center
December, 5, 2017: Mrs. Cierzo's third grade class was chosen to participate in the Fitness Party For Kids at the ADPRO Sports Training Center on Dec. 5. Their classroom was selected because of their participation in the Play 60 Challenge and Fitness For Kids Challenge during October and November.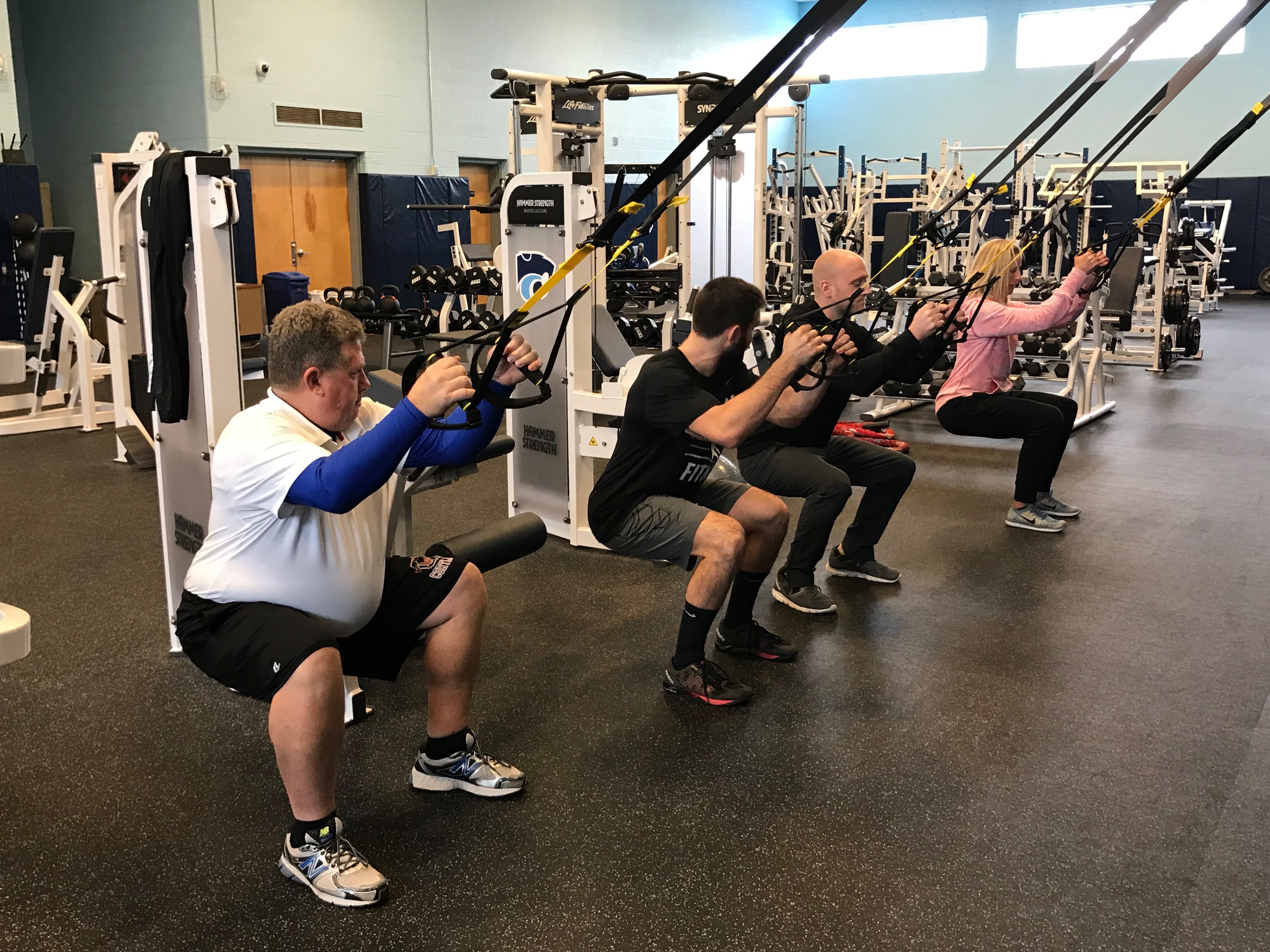 TXR Training held for PE teachers
November 22, 2017: TXR Training was held for all kindergarten through grade 12 physical education teachers.