Depew's multi-sport football field is done and ready for another thrilling year of sports.


Over 100 baskets will be available at the DHS Annual PTSO Theme Tray Auction tomorrow in the DHS Gymnasium & Cafe. This popular event will have doors open at 6 p.m. and the first drawing will start at 8 p.m. Don't miss out! Mark your calendar!
USACE presented an overview of what a Civil Engineer does in the Army to a group of Depew HS students.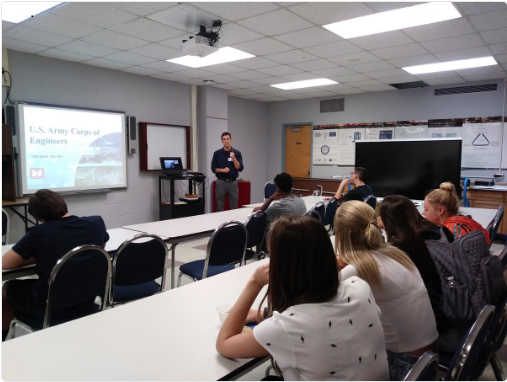 The 4th annual Lunch Hero Day was a success! Students celebrated food service workers with thoughtful gifts and cards. See it on WIVB Channel 4 in the 4 o'clock hour today!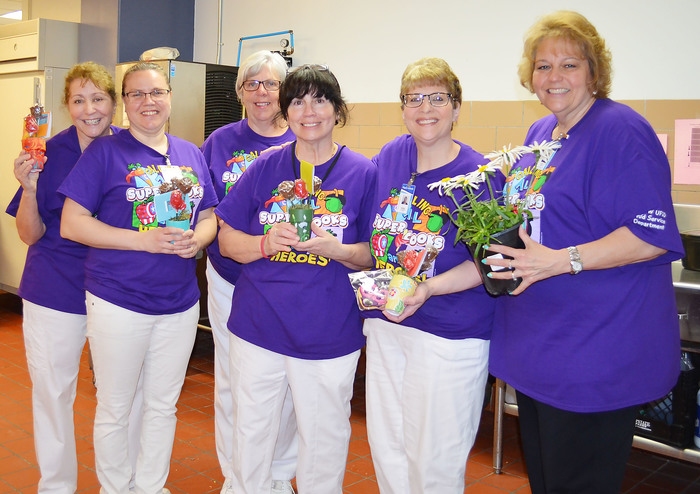 Depew High School Student Council has been recognized as a 2018 National Gold Council of Excellence. This award is given to those who demonstrate the highest levels of leadership.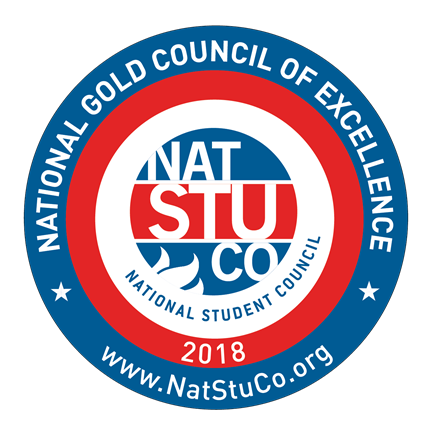 Depew High School's production of Disney's the Little Mermaid will take place at 7:30 p.m. Friday, March 16 and at 2 and 7:30 p.m. Saturday, March 17. Tickets go on sale this Monday, March 5.

It will be a special evening on Monday, Feb. 12 as the top four scorers in Depew High School boys' basketball history will return to be honored before the boys' varsity game against Cleveland Hill.


Recently, the Postdam Pitches, a co-ed cappella group from Potsdam, ended their winter tour at Depew High School. The artist provided a 40-minute master class for the high school choir students. 


Members of the Depew High School LEO club, staff, and their family members volunteered to pack Thanksgiving food bags at St. Luke's Mission of Mercy in Buffalo on Saturday, Nov. 18 in recognition of this national event. 

The Depew High School Leo Club coordinated Trick-or-Treat So Others May Eat. The annual event involves going to homes on Beggars Night to collect canned foods to benefit The Buffalo City Mission.

Depew engineering students participated in this year's Manufacturing at K-TECHnologies. Manufacturing Day is an annual celebration of modern manufacturing meant to inspire the next generation.

Support Depew LOTE Clubs from 4-8 p.m. Wednesday, Oct. 11 by enjoying dinner or dessert at Anderson's on Transit Road in Lancaster. Anderson's will donate a portion of sales for the trip to Europe.

Varsity Girls Swim Team fundraising car wash is Sunday, Sept. 17, from 12-2pm at Good Year Auto Repair, 4972 Transit Rd. $5 a car. All proceeds go to the varsity swim program.

DHS yearbook photos will be taken during PE classes on Monday (9/11) and Tuesday (9/12).

2017-18 supply lists and summer reading lists for high school have been posted on the high school's website homepage.

Senior Samantha Spinella won the small school division of the long jump by jumping 18 feet 1.75 inches to repeat as state champion. Sam is the first multiple-time state champion at DHS. Congrats!


Honoring the Depew High School lunch ladies today for Lunch Hero Day. Students presented them with lunch - submarine sandwiches. Gifts included hand-decorated caps and flowers!